Feature Story
Health Center Today, March 2, 2011
Health Center Supports Proposal to Create an Umbilical Cord Blood Bank
By Carolyn Pennington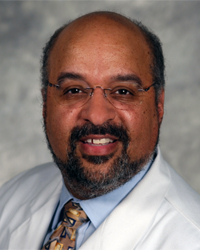 Dr. Winston Campbell
Dr. Winston Campbell, director of Maternal-Fetal Medicine and interim chair of the Department of OB/GYN at the Health Center, was one of the experts testifying before a legislative committee today in support of a proposal to create the state's first public umbilical cord blood bank.
The program would facilitate and promote the collection of umbilical cord blood for public use in transplantation and medical research and would be overseen by an independent board.
Umbilical cord blood is rich in stem cells that may be used to treat blood cancers, such as leukemia, myeloma and lymphoma, and inherited immunodeficiencies and blood diseases, including sickle cell anemia.
Currently, cord blood is most often discarded as medical waste. As a result, the current inventory of umbilical cord blood is insufficient to meet the medical demand and often fails to provide matched units for many ethnic and racial groups.
"It's about people helping people," says Dr. Campbell. "A public umbilical cord bank could provide enough diversity and achieve the 150,000 units of stem cells nationally to meet the needs of thousands of people."
Proponents of the bill say private cord banks are expensive and only 1 out of 20,000 individuals actually ever need the blood being stored in them. In addition, those stem cells are not available to the general public, just the individual or family which has banked them.
This proposal would set up centers in New Haven and Hartford to collect the cord blood from anyone willing to donate it. That cord blood would not be stored for their personal benefit, but for the benefit of anyone that needed it. Any cord blood, which did not meet the standards for donation, would then be donated to stem cell research efforts here at the Health Center and at Yale.