Feature Story
Health Center Today, March 8, 2011
Janine Gelineau - Not "Just a Photographer"
By Stefanie Dion-Jones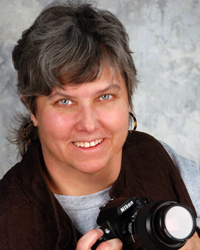 Janine Gelineau.
Photo by Irene Peterson
Even among the most seasoned of photographers, few have presumably ever pointed their cameras at a cadaver, snapped shots of doctors working behind the closed doors of an operating room, or fulfilled personal requests from ailing patients to capture their final portrait for posterity.
Yet in the 25 years that Janine Gelineau has worked at the UConn Health Center, these kinds of experiences have not been uncommon.
A multimedia specialist at the Health Center, Gelineau has served, first and foremost, as its resident photographer. She has documented everything from patients' health conditions for use in medical journals to the various stages of cutting-edge research conducted by Health Center scientists.
With part of her time dedicated to serving a variety of multimedia needs across the Health Center, most of Gelineau's work nowadays focuses on taking photographs of the people and places that are crucial to the Health Center's day-to-day operation. Over the years, her broad range of skills in photography, television, and other visual arts have served her well in a variety of unexpected settings.
As it turns out, Gelineau is no stranger to the unexpected.
"My mom died when I was young; I was 11 years old," she says. "When I was 12, I met a neighbor of mine, and she was a professional potter. I became her apprentice; she taught me from the ground up."
By the time she was in high school, Gelineau had become so adept as a potter that she began selling her wares in local artisans' stores and furniture shops, and even teaching adults. "I was kind of this hot shot in pottery, and so I just assumed that's where I'd be going," she says.
It became her passion – perhaps even more so because she had always doubted her ability in school, having struggled to get good grades. Unbeknownst to her, she was dyslexic. But it was not until after she had completed two years at Northwestern Community College in Winsted, Conn., and gone on to earn a bachelor's degree in pottery from UConn in 1977 that she was diagnosed with the learning disorder.
Ultimately, Gelineau never pursued the career in pottery she had envisioned. A back injury right after graduation forced her to ponder other possibilities.
"There I am, flat on my back, with no health insurance, facing an operation," Gelineau says. "I'm lying there, thinking, 'What am I going to do with my life?'" Despite having taken only one photography course during college, she decided then and there to take her love for the arts and her skills in color and composition and put them to work in a new career as a photographer.
Not 'Just a Photographer'
Gelineau's past struggles have given her a unique perspective on the work she does today. For instance, taking pictures of Health Center patients is not merely a job, but requires deep compassion and a gift for putting people at ease. "It's an interesting set of skills, because you have to make the person feel comfortable. They're so exposed," she says.
On more than one occasion, patients have even approached Gelineau with requests to take their very last photograph. "I've literally had people come to me in confidence and say, 'I know I'm dying. I want you to take my last picture. This is going to go to my mother, to my children.' I think of it as an honor," says Gelineau, whose own life experiences seem to have provided her with a special level of understanding.
Shortly before her own mother's death, Gelineau remembers going to have a family portrait done at a professional studio. "When my mother passed," she says, "that photograph became my mother. It was so important to me."
In part, that's why, she says, "I don't think of myself as just a photographer and that it's just a picture. I realize the value of it."
Photography was not the career path Gelineau initially intended to follow. But, she says, "You never know where things are going to lead you." Years later, she acknowledges that it turned out to be the right choice for her.
Unlike pottery, Gelineau says she can rely on photography for the sense of satisfaction it brings. "When you do pottery," she says, "from idea to a finished piece is a long process and things can go wrong every step of the way. For my personality, the immediacy of photography suits me. You think of an idea, you take a picture, and there it is."