Feature Story
Health Center Today, March 11, 2011
New Hip Procedure Gets You Back in the Swing of Things
This story first appeared in the December 2010 issue of House Call.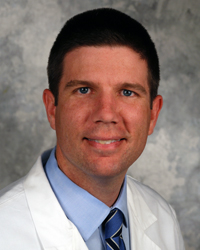 Dr. Gregory Polkowski
The hip is one of the body's largest weight-bearing joints. When this ball and socket joint starts to deteriorate because of arthritis, injury, or another disease, the pain can be excruciating. All too often, people ignore the pain and limit their activities because they feel they are too young for hip replacement surgery or are afraid the surgery will result in reduced mobility.
At the Health Center, Dr. Gregory Polkowski, an orthopaedic surgeon and joint preservation and replacement specialist at the New England Musculoskeletal Institute, offers patients a variety of advanced procedures including hip arthroscopy, pelvic osteotomy, and hip resurfacing that can return patients to an active lifestyle and avoid a complete hip replacement. Hip resurfacing is a procedure that may be attractive to very active patients in their 40s and 50s.
During a traditional hip replacement procedure, the surgeon removes the ball of the hip joint and replaces it with a prosthetic device that is held in place by a stem inserted into the patient's femur, or thigh bone. The socket of the joint is also replaced by a prosthetic device.
During the hip resurfacing procedure, the ball portion of the patient's hip joint is not completely removed. The surgeon covers the damaged ball with a metal cap that articulates with a metal socket. Because the patient's bones are not rubbing on each other, the pain is eliminated and range of motion is improved.
"One benefit of resurfacing is that the surgeon removes less bone, thus changing the anatomy less dramatically and better preserving the bone," says Polkowski. "The resurfacing offers a better range of motion with a reduced risk of dislocation compared with a traditional total hip replacement."
According to Polkowski, hip resurfacing can be most beneficial for younger patients who might be facing a traditional hip replace­ment. "A good total hip replacement in a 65-year-old patient is very beneficial and may last the rest of their life," Polkowski explains. "But, patients in their 40s and 50s who lead active lives, work in a physically challenging job, or want to continue to play sports may want to seriously consider the alternative of hip resurfacing, as it may allow them a better opportunity to return to those high-demand activities in the future."
To learn more about the complete range of joint preserving options Dr. Polkowski offers, call 800-535-6232 or 860-679-7692 or visit nemsi.uchc.edu.