Feature Story
Health Center Today, March 2, 2011
NICU Study Focuses on Kangaroo Care Program
By Carolyn Pennington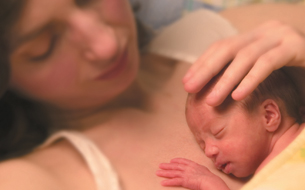 Mother providing kangaroo care to her newborn in the Health Center's NICU.
Photo by Lanny Nagler
The Health Center's Newborn Intensive Care Unit is participating in a study aimed at increasing the use of kangaroo care or skin-to-skin holding.
For many families, kangaroo care has become an integral part of their ability to bond with their baby and reduce stress while their infant is being cared for in the NICU.
But even though it offers many positive benefits, a nationwide evaluation a few years ago found only eight percent of staff routinely provided opportunities for kangaroo care in their NICUs. The March of Dimes started their Close to Me program to close the gap between a families' desire for kangaroo care and staff implementation of it.
The Close to Me program is a comprehensive set of awareness and educational activities, tools and products designed to increase the onset and frequency of kangaroo care and other positive holding experiences in NICUs.
The purpose of the study is to find out how well the Close to Me program works, compared to standard NICU procedures. The study will test the effectiveness of the program among both parents and staff.
In the first half of the study, the NICU staff and parents will follow the standard procedures for kangaroo care. The Close to Me program will occur in the second half of the study. The March of Dimes Family Support Specialist will offer training and other aid to parents and staff to support kangaroo care.
Parents will be asked to participate in two 20 minute surveys and keep a journal for three weeks about their experiences with kangaroo care. NICU staff will complete a questionnaire and attend a focus group discussion before and after the program is implemented.
"We hope the study will find that parents and the NICU staff will display greater knowledge of kangaroo care and have more favorable attitudes toward implementing it and using it after they've gone through the Close to Me program," says Jeanne Lattanzio, the Health Center's March of Dimes Family Support Specialist. "We also hope the staff encourages and assists parents in using kangaroo care and that parents use it earlier, more often and for a longer period of time."
The March of Dimes hopes approximately 48 staff and 120 families will be involved in the study, including around 12 staff and 30 families from the Health Center. The study results are expected in late 2011.