Feature Story
Health Center Today, March 15, 2011
A Passion for Learning
Dr. Suzanne Rose to Join UConn as Senior Associate Dean for Education
By Maureen McGuire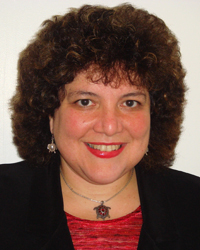 Dr. Suzanne Rose
Dr. Suzanne Rose was just a few years out of college and on summer break from her job as a high school biology teacher. Sitting on a perch on the Grand Canyon, it occurred to her that while she always wanted to be an educator, she also wanted to find a way to help more people. This moment of insight led her to switch careers into medicine, and eventually find a niche in medical education.
Fast forward to 2011 and her dreams have come to fruition. Rose is an accomplished gastroenterologist and a nationally-recognized leader in undergraduate medical education. She recently accepted the position of senior associate dean for education at the UConn School of Medicine, following a national search, and will assume her new responsibilities over the summer, succeeding Dr. Marja M. Hurley, the interim senior associate dean for education.
"I knew of UConn's excellent reputation and was intrigued by the job from the beginning," Rose said. However, during the interview process, when she met more of the faculty, administration and students, she was overwhelmed.
"Everyone connected to the School is so deeply committed to its mission and serving the people of Connecticut," she said. "The students are very impressive and I love the integration with the School of Dental Medicine during the first two years."
Rose joins UConn from Mount Sinai School of Medicine in New York City where she served as an associate dean in medical education for more than 13 years and in many roles including undergraduate medical education, student affairs, academic affairs, and continuing medical education.
Throughout her career, Rose has received numerous teaching awards and last year was selected as a Charter Master Educator in the Institute for Medical Education at Mount Sinai. She is a Fellow in the American Gastroenterological Association, American College of Gastroenterology, and the American College of Physicians. She is a graduate of the University of Pennsylvania, the pre-medicine, post-Baccalaureate program at Columbia University and Case West Reserve School of Medicine. She completed a residency in internal medicine at University Hospitals of Cleveland and a fellowship in gastroenterology at Cleveland Clinic Hospital.
"Dr. Rose brings to UConn a very impressive national reputation in academics and gastroenterology, as well as a clear passion for learning," said Dr. Cato T. Laurencin, the vice president for health affairs and dean of the UConn School of Medicine. "Our students and faculty will benefit greatly from her talents and skills."
After completing her fellowship training, Rose had a thriving practice in GI with a focus on women's health at Presbyterian University Hospital in Pittsburgh, where she also became an assistant professor of medicine at the University of Pittsburgh School of Medicine, in the Division of Gastroenterology and Hepatology. Here, she became involved in curriculum development, assumed the role of course director, and started her involvement with the American Association of Medical Colleges (AAMC). She also wrote a textbook for second year medical students.
From Pittsburgh, she went to Cornell University Medical College where she was the fellowship program director for GI, led a swallowing clinic and continued her involvement with medical education, before joining the Dean's Office at Mount Sinai. Along with her many roles at Mount Sinai, she prides herself on having met every medical student during her tenure.
In addition, she assumed several national responsibilities through the years. These include many years of service with the American Gastroenterology Association, an academic GI society, and serving as its Chairman of the Educational and Training Committee. She is the immediate past chair of the Group on Educational Affairs of AAMC and currently sits on a national taskforce through the AAMC that is working to create a toolbox to help medical schools develop metrics for evaluating their faculty.
In recent years, as her educational roles have increased, Rose has maintained a limited clinical practice.
"Seeing patients is the ultimate context for all learning," she said, noting that she hopes to have some involvement with patient care at UConn as well.
Among her many goals for the School of Medicine are: continuing the excellence the school has reached academically; fostering enhanced collaborations between students and faculty, including inter-professional training; pursuing ongoing technological advances; and supporting career development avenues for the faculty.
"Above all, our role is to take care of the community – and the citizens of Connecticut – by training dedicated, terrific doctors for generations to come," she added.