RSS
Watch the Video
Health Center researcher, Caroline Dealy, is interviewed by NBC Connecticut's Yvonne Nava about StemCONN 2011. Dealy has developed a technique that converts human embryonic stem cells into cartilage cells which may someday lead to a therapy for osteoarthritis.
WSHU Morning Edition Report featuring Marc Lalande, Ph.D.

Researchers say Connecticut stem cell investment is paying off. By Craig LeMoult.

Listen to the story
Feature Story
Health Center Today, March 23, 2011
StemCONN 2011 Highlights Most Recent Discoveries in Stem Cell Research
By Carolyn Pennington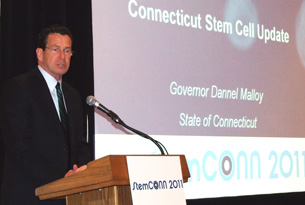 Gov. Malloy gave introductory remarks for StemCONN 2011.
Photos by Carolyn Pennington
Health Center researchers were well-represented at StemCONN 2011 held at the Farmington Marriott Hotel Tuesday. The event, hosted by Connecticut United for Research Excellence (CURE), is a full-day scientific symposium highlighting the most recent discoveries in stem cell research. This is the conference's third year and it continues to attract well-known scientists throughout the Northeast.
Gov. Dannel Malloy kicked-off the event by pledging his support for continued state stem cell funding saying it will play a critical role in the state's future economic success. "There is precious little that we won't do to compete with Boston or San Diego or anywhere else in the world," Malloy said.
Legislation passed in 2005 committed $100 million for stem cell research over 10 years. The initiative has helped support major scientific advances, state-of-the-art research facilities, and the creation of new jobs.
The commercialization of stem cells was the topic of a panel discussion that included Caroline Dealy, Ph.D., associate professor in the Health Center's Department of Reconstructive Sciences and director of research for Chondrogenics, Inc. The "Stem Cells for Profit" panel also included a representative from big pharma, an entrepreneurial company and a venture capital firm.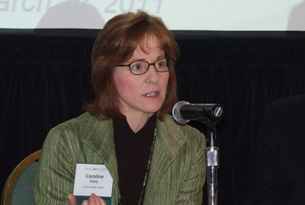 Health Center researcher Caroline Dealy took part in a "Stem Cells for Profit?" panel discussion.
Dealy talked about the importance of receiving state stem cell funding for her research. Dealy has developed a technique that converts human embryonic stem cells into cartilage cells. It could eventually lead to a therapeutic remedy to osteoarthritis, the degenerative disease caused by cartilage deterioration in joints that affects millions of people.
The panel discussed the challenges of receiving private funding because of the difficulties involved with stem cell research which currently involves adult stem cells, human embryonic stem cells, as well as induced pluripotent stem (iPS) cells. The work is labor intensive because you're not dealing with chemicals but living tissue and it can take decades before a stem cell therapy goes from the lab to the market.
The panelists agreed that in order to get private funding, scientists needed to be further along in their research, have the data to back up their findings and a clear business plan.
Other StemCONN speakers from UConn included:
Gordon G. Carmichael, Ph.D., University of Connecticut Health Center Professor, Department of Genetics and Medical Biology and 2010 Osborn Biomedical Science Graduate Teaching Award Recipient

Topic: dsRNA and noncoding RNAs in human embryonic stem cells
David J. Goldhamer, Ph.D., University of Connecticut Associate Professor, University of Connecticut Molecular & Cell Biology Center for Regenerative Biology

Topic: Skeletal muscle stem cells in regeneration and disease

Paul Pescatello, President and CEO of CURE, Gov. Dannel Malloy, Marc Lalande, Ph.D., director of UConn's Stem Cell Institute.

Audrey R. Chapman, Ph.D., University of Connecticut Health Center Joseph M. Healey, Jr. Memorial Chair in Medical Humanities and Bioethics, Division of Public Health Law & Bioethics; Professor of Community Medicine and Healthcare

Topic: Current status of litigation related to federal funding of hESC research
Lisa Kuhn, Ph.D., University of Connecticut Health Center Assistant Professor, Center for Biomaterials, Department of Reconstructive Sciences

Topic: Substantial mouse calvarial bone defect healing by human embryonic stem cells
Laijun Lai, M.D., University of Connecticut Health Center Assistant Professor, Department of Immunology

Topic: Embryonic stem cell-derived thymic epithelial cell progenitors enhance T cell reconstitution after bone marrow transplantation