Feature Story
Health Center Today, March 9, 2011
More Health Center Research on Colorectal Cancer Link to Tobacco Use
By Chris DeFrancesco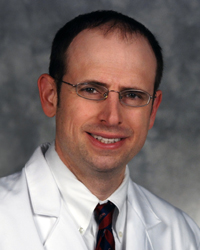 Dr. Joseph Anderson continues to be active in publication of studies showing an association between tobacco use and colorectal cancer.
Researchers at the UConn Health Center are learning more about different types of hard-to-detect indicators of colorectal cancer.
In an article published in the February 2011 Expert Review of Gastroenterology & Hepatology, Dr. Joseph Anderson, associate professor of medicine, addresses different characteristics and classifications of lesions in the colon that can become cancerous.
"The ones we call 'flat adenomas' are a much bigger part of the discussion now," says Anderson, a gastroenterologist in the Carole and Ray Neag Comprehensive Cancer Center. "They don't always show up in colorectal cancer screenings, which can make them especially worrisome."
Anderson, who co-wrote American College of Gastroenterology's updated guidelines for colorectal cancer screening, continues to find links to colorectal cancer and tobacco use. His part in the guidelines was to highlight the risk that smokers have for colorectal cancer. He also is lead author of a UConn study to be published in the Journal of Clinical Gastroenterology that finds a strong association between smoking and lesions known as sessile serrated adenomas.
"Sessile serrated adenomas tend to be flat in nature and thus may be difficult to detect," Anderson says. "In addition, their transition to colorectal cancer may be faster than traditional polyps."
The studies add to Anderson's recent papers examining the association of smoking with flat polyps, published in the June 2010 Gastrointestinal Endoscopy (the journal for the American Society of Gastroenterology), and smaller serrated lesions called aberrant crypt foci, published in the July 2010 American Journal of Gastroenterology (the journal for the American College of Gastroenterology).
"We're finding more reasons to rethink our approach to screening people who've been using tobacco," Anderson says.