Feature Story
Health Center Today, May 17, 2011
Angelman Syndrome Researchers Aim to Give Back by Participating in Walk
By Carolyn Pennington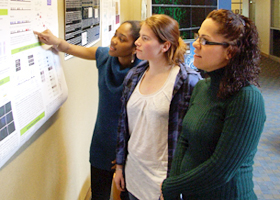 (left to right) Angelman syndrome researchers Chloe Hot, Christelle Remus, and Kristen Martin-Taylor.
Photos by Tina Encarnacion
On Saturday, May 21, a team of researchers in the Department of Genetics and Developmental Biology will leave their lab and put on their walking shoes to raise awareness about a rare disease they've been studying for years.
Angelman syndrome (AS) is a neuro-genetic disorder that occurs in 1 in 15,000 births. Each year, the Angelman Syndrome Foundation hosts walks all across the country to raise money for research into the disease. This is the first year Connecticut has held a walk and the Health Center team is excited to help out.
"Our lab studies Angelman syndrome and we rely on tissue donations to perform our research," says Stormy Chamberlain, an assistant professor who recently received federal grant money to study the genetic cause of Angelman syndrome. "This walk is our way of giving back to the kids with AS and their families."
Angelman syndrome is often misdiagnosed as cerebral palsy or autism. Characteristics of AS include; developmental delay, lack of speech, seizures, and walking and balance disorders. Individuals with AS will require life-long care.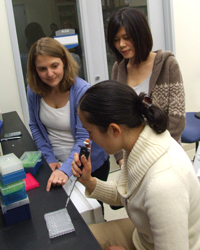 Dr. Nicole Kummer (seated), Stormy Chamberlain (left) and Ivy Pin-Fang Chen will participate in the ASF walk May 21.
"Dr. Chamberlain's team is generating individualized stem cells to create in vitro models of human disease," says Marc Lalande, director of UConn's Stem Cell Institute. "This allows us to investigate a disease such as Angelman's by creating cells from a patient and monitoring their behavior in the laboratory. This type of information is absolutely necessary to improve our ability to diagnose and treat human diseases and neurological disorders."
"Our ultimate goal is to be able to figure out what's wrong with the cells in order to evaluate drugs that could offer a treatment, possibly even a potential cure for AS," says Chamberlain.
There are seven scientists from the lab who will be participating in the ASF walk at My Friend's Place Boundless Playground Park in South Windsor. The team hopes to raise $2,000. For more information or to donate to the team, visit the Angelman Syndrome Foundation website.
"The kids with AS are the reason that we do what we do," says Chamberlain. "We are excited to be a part of their community."