Feature Story
Health Center Today, May 24, 2011
Back to Bike to Work
By Chris DeFrancesco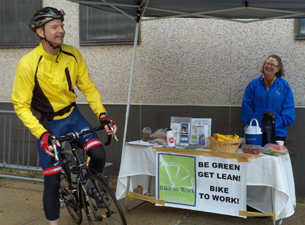 Rich Allen stops for refreshment after pedaling to work from Glastonbury. Connie Cantor (right) and Joyce Fritz (not pictured) set up a table near the bike racks at the public safety entrance to the main building to greet bike commuters with a cup of coffee, bottled water, fruit and other snacks, and offer information about cycling.
Photo by Chris DeFrancesco
The weather is getting nicer and for some that means the conditions are right for taking the bicycle to work instead of the car.
At least that's what normally is supposed to happen in May. This year the weather has been less than cooperative, postponing the Health Center's first bike-to-work breakfast of the season and keeping many cyclists away for the rescheduled event May 23.
Still, Joyce Fritz of Facilities Development and Operations and Connie Cantor of the Center for Public Health and Health Policies are prepared to promote bike commuting with monthly bike-to-work breakfasts through the fall.
Cyclists can shower in the locker rooms in the basement of the main building (down the hall from Reprographics). On bike-to-work event days, several lockers are designated for bike commuters.
"It is important for health reasons, which include staying in shape plus having less stress in your life—after working a long day at work and biking home, it de-stresses you," Fritz says. "You're commuting to work anyway, why not bike it to work instead of drive?"
On May 20, the Human Resources workplace culture program Know Better Place presented "Cycle Sense: Reasons to Ride," a free talk by certified cycling instructor Beth Emery.
A bike-to-work breakfast and information table is scheduled for the third Friday of the month through September, with a rain date the following Monday.
June 17
July 15
August 19
September 16
Bike to Work events were started in 2004 as an employee health/public health initiative.
"Each year we encourage biking to work, which incorporates physical activity into the workday, along with saving gasoline and decreasing carbon emissions," Cantor says. "With encouragement from this program, Joyce Fritz started biking to work in 2005. She has been very dedicated in supporting the events ever since. Joyce volunteers her own time and donates excellent baked goods and breakfast snacks to make the events great."