Feature Story
Health Center Today, May 27, 2011
CICATS Symposium Sets Sights on Sickle Cell
By Chris DeFrancesco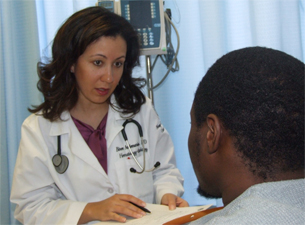 Dr. Biree Andemariam will present at the CICATS symposium on sickle cell disease research June 2.
Photo by Chris DeFrancesco
A daylong research symposium June 2 at the UConn Health Center will focus on a painful blood disorder believed to affect nearly 100,000 Americans and millions worldwide.
"Sickle Cell Disease: Translating Science into Action," presented by the Connecticut Institute for Clinical and Translational Science, will feature eight speakers, including Dr. Biree Andemariam, a clinician-scientist in the Lea's Foundation Center for Hematologic Disorders.
"Sickle cell disease, the most common hereditary blood disorder, is in dire need of biomedical research to accelerate the unacceptably slow pace of even the most basic of discoveries in this field," says Andemariam, whose study of sickle cell disease made her one of the first recipients of a CICATS Award for Mentored Research.
Doctors have known about sickle cell disease for more than a century, but no universal cure exists. In most cases, treatment options are limited to pain management.
"The CICATS core interest group in sickle cell disease was developed to bring together researchers across the state from various disciplines to work toward a common goal of translating scientific discoveries in sickle cell disease into rational, effective and novel ways of treating the disease," Andemariam says. "This symposium is a major step toward that goal."
Scheduled presenters also include:
Victoria Odesina, UConn Health Center
Robin Leger, UConn Health Center
Dr. William Zempsky, UConn School of Medicine and Connecticut Children's Medical Center
George Lykotrafitis, UConn (Storrs)
Shan-Estelle Brown, UConn (Storrs)
Dr. Farzana Pashankar, Yale University School of Medicine
Dr. Andrew Campbell, University of Michigan Medical Center
The program is scheduled from 9:30 a.m. to 3:30 p.m. in the Low Learning Center.