Feature Story
Health Center Today, May 10, 2011
Collaborative Research Day Focused on a Better Understanding of Developmental Disorders
By Carolyn Pennington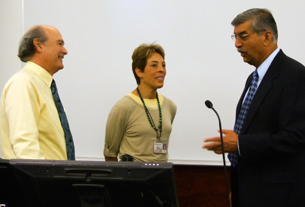 (left to right) Drs. Marc Lalande, Ann Milanese, and Suman Singha, vice president for research at UConn who served as master of ceremonies for Collaborative Research Day May 5.
Photo by Tina Encarnacion
Gaining a better understanding of neurodevelopmental disorders such as autism and ADHD was the focus of Collaborative Research Day held recently at the Health Center's Cell and Genome Sciences Building. The conference brought together clinicians and researchers from across the region.
"This is a day we highlighted work at Hartford Hospital, Connecticut Children's Medical Center and the Health Center around several disorders that affect the development of the brain," said Marc Lalande, director of the UConn Stem Cell Institute.
Lalande's research team has spent years studying Angelman and Prader-Willi syndromes, two relatively rare genetic disorders. Lalande says their goal is to broaden that research base to more common disorders such as ADHD, autism and schizophrenia.
"Dr. Ann Milanese, a clinician with Connecticut Children's, has a whole series of patients with autism spectrum disorders and we would like to work with her to look at some of these patients using our stem cell and genomic sequencing technology," explained Lalande.
Currently, Health Center researchers have submitted a combined state stem cell grant with Hartford Hospital researchers to develop stem cells from the skin cells of schizophrenia patients. Another potential collaboration with Hartford Hospital is with the clinicians who conduct brain imaging on patients with schizophrenia and ADHD.
Lalande says they are hoping to harness the varying expertise at the different institutions to study in the short term how these diseases originate and in the longer term to actually develop cures.
Featured speakers included:
Dr. Ann Milanese, Connecticut Children's Medical Center
"Autism: Update from the Front Line"
Dr. Michael Stevens, The Institute of Living/Hartford Hospital
"Neural Network Perspectives on Brain Pathophysiology in ADHD"
Dr. Marc Lalande, University of Connecticut Stem Cell Institute
"In Vitro Models of Human Neurodevelopmental Disorders Via Pluripotent Stem Cell Technology"
Collaborative Research Day was sponsored by Connecticut Children's Medical Center, Hartford Hospital and the UConn Health Center.