Feature Story
Health Center Today, May 2, 2011
Huey Starts New Role with New Discussion Series on Health Care Changes
By Chris DeFrancesco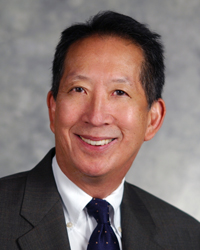 Dr. Leighton Huey, recently appointed associate dean for community and continuing education, is introducing the System Redesign Series. The first keynote speaker is Stephen Shortell, dean of the University of California Berkeley School of Public Health, Friday, May 6.
Photo by Janine Gelineau
In his new role as the UConn School of Medicine's associate dean for community and continuing education, Dr. Leighton Huey is introducing a program designed to stimulate discussion about critical changes taking place within health care as a result of reform efforts.
"The System Redesign Series is designed to bring to the Health Center pre-eminent national leaders in health care reform, thinkers who are at the forefront of driving the changes that are being developed now in redesigning the health care system," Huey says.
It starts Friday, May 6, at 3 p.m. in Massey Auditorium, where Stephen Shortell, dean of the University of California Berkeley School of Public Health, will present "Implementing Accountable Care Organizations: The Way Forward."
An accountable care organization, or ACO, is a health care delivery model involving a coordinated group of providers and organizations that is structured to enhance and reward quality and efficiency. ACOs, as the name implies, are held accountable for the cost and quality of care they deliver. Shortell is well published in this area, a recent example being a commentary in the May 2010 Journal of the American Medical Association.
"The essential goal of this series is not so much about the political ramifications of the various reactions to health care reform, but rather, to initiating a dialogue about implications and potential directions that health systems must consider to be relevant and vital," says Huey, who envisions the System Redesign Series as a semi-annual event.
New Role
Dr. Cato T. Laurencin, vice president for health affairs and medical school dean, announced the selection of Huey as associate dean of community and continuing education in mid-April. His appointment ends an extensive search, during which he served in the position in an interim capacity.
"In his new role, Dr. Huey will continue to focus on addressing the educational needs of physicians and other clinicians both within the UConn Health Center and throughout the state by sponsoring, reviewing, and approving timely educational programs," Laurencin says. "He is working to change the nature of Continuing Medical Education, linking it to quality improvement and faculty development, to make it consistent with new standards and expectations at the national level that relate to maintenance of licensure and certification."
Huey also plans to establish educational programs in the community for the people of Hartford to promote and improve health literacy, and continue to serve as a psychiatry attending, teaching medical students and residents.
Huey, a professor of psychiatry, chaired the Department of Psychiatry from 1998 through 2010. His career prior to joining UConn included senior positions at the University of California, San Diego and, most recently, Dartmouth Medical School. He has lectured and published on mood disorders, attention deficit disorder in adults, addictions, system reform, workforce realignment, providing appropriate mental health services in a changing health care environment, and the interface between psychiatry and primary care services.