Feature Story
Health Center Today, May 31, 2011
Health Center Nurse Is Son's Kidney Donor
By Chris DeFrancesco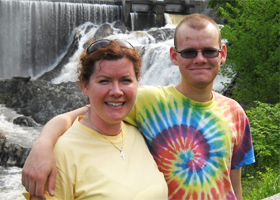 Cardiac step down nurse Michelle Voisine is donating a kidney to her 19-year-old son, Tyler.
Photos courtesy of Michelle Voisine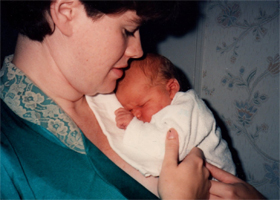 Michelle Voisine holds newborn Tyler in October 1991.
A cardiac step down nurse is preparing to save another life.
Michelle Voisine is donating a kidney to her 19-year-old son, Tyler.
Last August, as the UConn sophomore was getting ready to move into his dormitory in Storrs, he went for a routine physical.
"He was found to be severely anemic, quite unusual for a then-18-year-old," Michelle Voisine says.
A chemistry panel found elevated kidney functions. A renal ultrasound followed, and delivered shocking results.
"We were told Tyler has end stage renal disease, irreversible and no known cause," Michelle Voisine says. "He would need a dialysis catheter right away. That evening while we were having his going away party for college we got a call from the covering nephrology doctor. Tyler's labs were worse and he needed to be hospitalized that night."
A week later he started treatment at the UConn Dialysis Center. College would have to wait.
In November Tyler's name was added to the waiting list for a kidney transplant. By January, with some accommodations, he was back in school. Not long after that, his mother started the process to learn whether she could donate one of her kidneys.
"We found out we are matched well, and that I can be his donor," Michelle Voisine says. "Our surgery is set for June 15!"
The family has been asking the community for prayers and support.
"After surgery, I am not sure yet what our needs will be," she says. "I know we will need rides to the hospital at least twice a week for Tyler. Dinners would be much appreciated since I will be limited to no heavy cooking for a few weeks and our whole family will be home this summer. Also there is no heavy lifting for both of us, which means no laundry, vacuuming or any of that."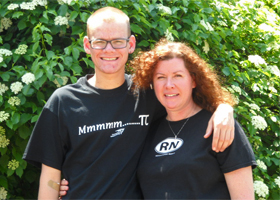 A benefit dinner will be held Saturday, June 4, at Asbury United Methodist Church in Bristol. More information is available on Tyler Voisine's Transplant Benefit website or by calling 860-584-0529 or 203-494-4942.