Feature Story
Health Center Today, May 9, 2011
Health Center Celebrates Its Nurses
By Chris DeFrancesco
Photo Gallery
Select image to view.
Photos by Janine Gelineau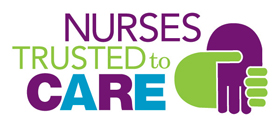 Logo courtesy of the American Nurses Association
The UConn Health Center is honoring its nurses with a weeklong celebration of Nurses Week, during which nurses will be treated to massages, teas, ice cream, and programs on meditation, sound healing, and acupuncture.
The Health Center's 2011 Nurses Week celebration started Sunday, May 8, with a kickoff breakfast. A complete schedule of Nurses Week Events is available on the Department of Nursing website.
"Our outstanding nursing staff is indeed an important part of what makes the UConn Health Center exceptional," says Ellen Leone, associate vice president of clinical operations and chief nursing officer.
The American Nurses Association has been observing National Nurses Week annually since 1994. This year's theme is "Trusted to Care."
The Health Center's Nurses Week programs are funded in part by the Danforth O'Neil Fund, established to bring conferences, seminars and materials to the Health Center to support the education of nurses. The fund is named in honor of the parents of Claire O'Neil, the first director of nursing at John Dempsey Hospital, who retired in 1983.
The Office of Development and Alumni Relations has scheduled its 2011 Close to Home campaign to coincide with Nurses Week and is accepting gifts to support the "Center for Nursing Excellence Fund."