Feature Story
Health Center Today, May 2, 2011
Renowned Pediatric Dentist Discusses Advances in Oral Health Care
By Carolyn Pennington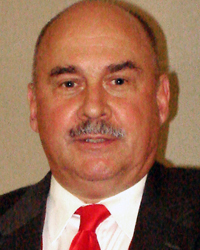 Dr. Paul Casamassimo, Speaker.
Photos courtesy of Liz Whitty
Nearly 100 pediatric dentists from around the state attended the Connecticut Society of Pediatric Dentistry (CSPD) meeting held recently at the Health Center. Dr. Paul Casamassimo, chair of the Department of Pediatric Dentistry at The Ohio State University was the featured speaker for the CSPD-UConn-Castaldi spring meeting.
Casamassimo is a renowned pediatric dentist, and his research and clinical efforts in the care of children with special health care needs as well as oral health disparities have helped innumerable children in both Ohio and across the nation.
Casamassimo's lecture titled "Is Your Practice Keeping Pace with Advances in Pediatric Health Care?" focused on the dental care issues prompted by greater survivorship of young people with chronic illnesses and disabilities. Casamassimo said pediatric dentists need to be knowledgeable about the medications and devices these patients use. He also discussed new uses for common medications and how they affect the oral cavity and resultant care protocols for pediatric patients.
Also during the meeting, Dr. Fred Thal, an alumnus of the pediatric dentistry program, paid tribute to Dr. Cosmo Castaldi, the founder of the Pediatric Division at the UConn School of Dental Medicine, who passed away in March. Castaldi's son, Dan, also said a few words about his father.
The talk was sponsored by the Castaldi Lecture Fund and is organized in partnership with the CSPD and the UConn School of Dental Medicine's Division of Pediatric Dentistry.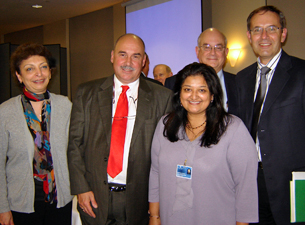 Dr. Mina Mina, Dr. Paul Casamassimo, Dr. Richard Skinner, Dr. Bina Katechia, and Dr. Fred Thal.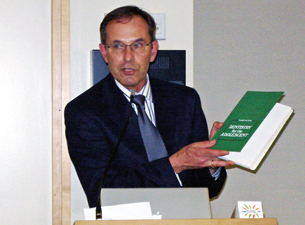 Dr. Fred Thal.