Feature Story
Health Center Today, May 12, 2011
Physician Leadership Symposium – Developing Skills Not Taught in Medical School
By Carolyn Pennington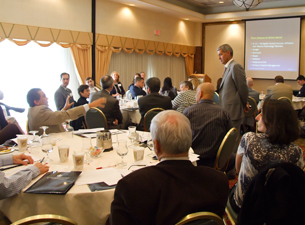 Physician Leadership Symposium at the Marriott in Farmington May 10.
Photos by Tina Encarnacion
Health Center physicians went back to school this week to brush up on some skills they likely didn't learn in medical school. The Physician Leadership Symposium focused on teaching more than 40 doctors from the UConn Medical Group (UMG) how to hone their team management skills.
"Physicians are trained to be autonomous in their thinking and actions," says Dr. Adam Silverman, the interim medical director of UMG and organizer of the event. "But health care is a 'team sport,' requiring the ability to be both a team member, and sometimes a team leader."
Silverman describes it as teaching physicians "how to play football after years of playing tennis." These skills are especially important as the country's health care environment keeps changing.
"Most of us just focus on taking care of our patients," says Dr. Patrick Coll, UConn Center on Aging. "As the health care system changes, we've reacted to the changes rather than being a part of that change. My goal of coming here is to get a sense of what we can do to mold things rather than just react to them."
The keynote speakers for the symposium included Dr. Barry Silbaugh, the CEO of the American College of Physician Executives (ACPE), and Kevin O'Connor, an ACPE faculty member who specializes in physician executive leadership, innovation, and organizational development.
Key elements of the symposium included:
How does a medical leader foster creativity and innovation with a primarily scientific team of independent thinkers?
How to turn around mistakes, errors, and failure to your advantage.
How can a physician executive produce results that both work the bottom line and are creative at the same time.
The relationship of creativity in thinking about one's own career and the reality of life management.
(left to right) Drs. Mike Summerer, Barry Silbaugh, and Adam Silverman during the Physician Leadership Symposium.
The symposium included interactive workshops that focused on hard and soft skills of leadership through innovation, problem solving and process management.
"For someone like me who was never schooled in business matters, I'm hoping to learn some of the practical things about developing a better business model," says Dr. Louise McCullough, director of stroke research. "It's time for us to step up and I think this is a great opportunity for physicians to become more involved in the leadership process."
Silverman says he hopes the symposium serves as a spring board for a number of follow-up programs designed to encourage the development of future physician-leaders at the Health Center.