Feature Story
Health Center Today, May 4, 2011
TIP-ing the Future in Connecticut's Favor
By Noreen Kirk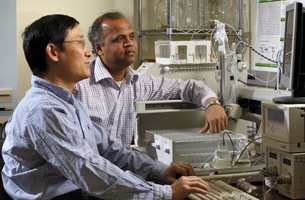 (left to right) Dr. Ren-He Xu, director of the UConn Stem Cell Core, and Uday Khire, founder of Cheminpharma.
Innovative biomedical companies not only help improve patient care; they're also powerful economic drivers. It's no wonder, then, that states nationwide are in fierce competition to attract young, entrepreneurial biomedical firms. Today's startups have the potential to grow into tomorrow's successful companies, generating high-paying jobs and economic vitality while improving human health.
The University of Connecticut's newest Technology Incubation Program (TIP) site, at the UConn Health Center in Farmington, is designed to ensure that promising biomedical companies have the opportunity to grow and flourish right here in Connecticut. Located in the Health Center's Cell and Genome Sciences Building, the TIP currently provides space and support for seven early-stage companies and may accommodate more. All are developing innovative health-care-related products and services. By co-locating company researchers with investigators at the state's only public research university, the Farmington TIP fosters collaboration and cross-fertilization among scientists. The synergy created accelerates discovery and establishes a powerful public-private partnership that advances the state's economic development goals.
"In addition to helping create new biomedical companies in Connecticut, the Farmington TIP supports talent retention," says Rita Zangari, director of UConn's Office of Technology Commercialization, of which TIP is a component. "It's helping Connecticut retain talented scientists despite the scaling down of large pharmaceutical companies, and it keeps recent science graduates in Connecticut by giving them the opportunity to gain experience in their fields by working in startup companies."
TIP: Nurturing Young Companies
The UConn Technology Incubation Program's goal is to foster the establishment and development in Connecticut of entrepreneurial companies in a variety of technology areas—nanotechnology, bioscience, energy and more. In addition to the Farmington site, TIP incubators are located on UConn campuses in Storrs and Groton.
Developing a promising idea or technology into a successful commercial enterprise is a massive challenge. One of the biggest obstacles is financial. It's difficult for entrepreneurs to afford lab and office space, equipment and other resources necessary for research and development. Another is that many entrepreneurs, while gifted scientists, often have little experience in operating a business.
TIP addresses these issues to help startup companies survive the first few critical years. The program provides lab and office space at below-market rates; Internet, phone, fax and mail services; teleconferencing equipment; access to core research facilities and more.
Companies also receive guidance from seasoned businesspeople. At the Farmington site, for example, Business Services Director Thomas Gerson has extensive experience, both as CFO for biotechnology startups and in strategic planning and finance for large pharmaceutical companies.
"I advise the Farmington TIP companies on everything from finance and organizational structure to establishing partnerships and licensing products," Gerson says. His professional consultation services are part of the package of support TIP offers. The "incubator" model TIP employs is a proven one. According to the National Business Incubation Association, while most small businesses fail within three years, 85 percent of companies that graduated from incubator programs remain in business today, and 84 percent remain in the community in which they began.
A Win-Win in Farmington
One of the areas in which the UConn Health Center is an internationally recognized leader is stem cell research, a field with the potential to develop new therapies for a range of chronic diseases. UConn has received a significant percentage of state funds allocated for stem cell research, and Gov. Dannel Malloy has expressed support for continued funding of stem cell research in Connecticut.
The Farmington TIP gives smaller companies the ability to collaborate with UConn stem cell experts such as Dr. Ren-He Xu, director of the Stem Cell Core Laboratory, and to access the lab's stem cell lines. Uday Khire is founder and CEO of Cheminpharma LLC, a TIP company whose research includes drug-discovery projects in cancer therapies. Khire and Xu have submitted a joint application for grant funding to the state's stem cell program and plan to conduct collaborative research if funded.
Minerva Biotechnologies is also engaged in stem cell research and has achieved several breakthroughs in understanding how cancer cells and human stem cells grow. Founder and CEO Cynthia Bamdad says she was attracted to the Farmington TIP program by the Health Center's expertise in stem cell research, but also because "the University of Connecticut has a forward-looking plan as to how to set up collaborations with industry. Industry has a lot to offer academic institutions, and academic institutions have a lot to offer industry."
Marc Lalande, director of UConn's Stem Cell Institute and chairman of the Department of Genetics and Developmental Biology, also emphasizes the mutually beneficial aspects of the TIP. "Moving forward, there will be less federal money to support medical research," Lalande says. "The advantage for us is that, if we can work with private partners, we'll develop another funding stream."
But the state is the ultimate beneficiary, says Lalande. "We want the state's investment in research to benefit Connecticut in terms of jobs and economic development," he says. "If we use grant money from the state and the federal government to work with entrepreneurs and a new company succeeds, that creates employment—and attracts high-quality people. These companies help us get good return on the state's research investment."