Feature Story
Health Center Today, November 5, 2009
Laurencin Offers Glimpse into Promising Future
By Chris DeFrancesco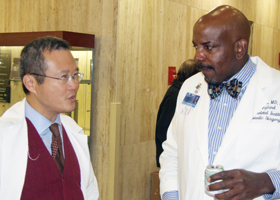 Drs. Bruce Liang and Cato T. Laurencin chat at a reception following Laurencin's State of the Health Center address November 4.
Finding opportunity in challenging times was the message of Dr. Cato T. Laurencin's State of the Health Center address November 4.
Laurencin shared his vision of a promising future in which central Connecticut would become a health care destination, with the Health Center as its nucleus. He spoke of the expansion of research capabilities that would advance science, bring in new grant money, create new jobs, and make the Health Center a catalyst for the state's economy. He stressed the importance of maintaining a spirit of collaboration with the other hospitals in the region, and talked about plans to expand the medical school and encourage more students to get into primary care.
Other highlights:
Laurencin reported the Health Center was in the black for the first quarter of fiscal 2010, ending a trend of operating deficits going back more than three years.
He touted the fact that the Health Center has more physicians on Castle Connolly's "America's Top Doctors" list (six) than all the other area hospitals combined (four).
He gave an update on marketing plans, including the recently launched "Every Day" campaign emphasizing the world-class clinical services the Health Center offers.
He declared John Dempsey Hospital ready for the upcoming Joint Commission accreditation visit, and said he expects to be able to make a case for the Department of Public health to take the hospital off probation a year early.