Feature Story
Health Center Today, September 11, 2009
Department of Dermatology Highlights Fundraising Efforts, Potential
By John Sponauer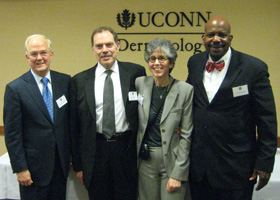 From left: President Mike Hogan, Dr. Barry D. Kels, Dr. Jane Grant-Kels, Dr. Cato T. Laurencin.
Located in a new, larger facility, and fresh from recruiting a new research expert through the support of private giving, the Department of Dermatology is also celebrating two major gifts.
A pledge of $100,000 from Dr. Jane Grant-Kels, chair of the department, and her husband, Dr. Barry D. Kels, executive director of risk management at the Health Center, has been matched dollar-for-dollar by an anonymous donor, a grateful patient of Grant-Kels.
"The support shown by Jane and Barry, as well as our grateful patients at the Health Center, is a testament to the generosity and commitment of those most personally connected to the UConn Health Center," says Dr. Cato T. Laurencin, vice president for health affairs. "Their philanthropy is an inspiration to us all, and a sign of their dedication to the field of dermatology, the university, and the entire state."
The gifts are part of an upcoming sustained fundraising effort for the department, which includes the preliminary goal of a $3-million distinguished endowed department head chair in melanoma and cutaneous oncology or psoriasis.
"Providing for an endowed chair through philanthropy ensures there will a perpetual resource for some of the groundbreaking research that we are on the edge of in the field of dermatology, and would bring the Health Center's reputation and capability up to the next level," Grant-Kels says. "Endowed support is part of what separates the top programs in the country, and we can clearly be at that level given the exceptional researchers, physicians, faculty and staff who are here."
Adding to that pool of expertise, the department, Health Center and Carole and Ray Neag Comprehensive Cancer Center have successfully recruited a leading researcher to the cutaneous oncology program, partially supported through funds raised by the inaugural 2007 Imagine...Unmasking a World Without Cancer gala.
Dr. Soheil Sam Dadras, a Stanford University specialist in cutaneous melanoma, has joined the research team at the Health Center. Grant-Kels says that his addition shows the power that private giving can have in elevating research efforts at the University."Whether it's through major gifts, like the ones we've announced to date and will need for our goal of an endowed chair, or the individual efforts of hundreds of donors at an event like Imagine, every one of our supporters is making a difference. Together, we're creating a program here that will lead the state, region and the entire field of dermatology."