Feature Story
Health Center Today, November 24, 2010
Crafty Birds Deliver Surprise Gift to Auxiliary
By Chris DeFrancesco
A Bristol woman with a knack for embroidering has helped raise money for the UConn Health Center Auxiliary.
Using discarded hand-embroidered linen pieces, Melissa Brown crafted pincushions resembling small white birds, sold them, and gave the Auxiliary the proceeds.
"The linens are vintage, of the sort that our mothers, grandmothers would have stitched," Brown says. "They've a lot of charm reminiscent of a time when ladies learned to embroider, and had time to do so, for the decoration of their homes."
The linens had been donated to the Auxiliary Thrift Shop, on Park Road in West Hartford, but were never sold. Shop volunteer Susan Wilder decided to bring them to a meeting of the Friends of Counted Embroidery. Brown took the material home, not sure exactly what she'd do with them. The idea came this summer.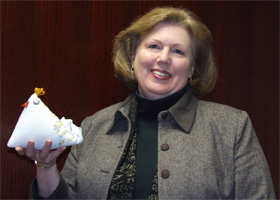 Melissa Brown's hand-made birdie pincushions, crafted from discarded pieces of fine linens, raised $130 for the UConn Health Center Auxiliary. The material had been donated to the Auxiliary Thrift Shop.
Photos by Chris DeFrancesco
"I was involved in an online exchange of pincushions and the lady to whom I was to send one is in Sweden," Brown says. "I know she likes birds and has a great sense of humor, is very talented, having won a number of awards at quilt shows both in Sweden and in the USA, so I made one and sent it to her. Then I thought, since the linens came from the Thrift Shop and had been intended to benefit it, I'd make additional pincushions and see if I could sell a few as a way to give back. I intended to make four of them and sell them as a surprise to Susan."
It didn't take her long to sell four. Then with the pieces she had left she was able to make four more. Priced at $15, those went quickly too. A few buyers gave her $20, and she ended up collecting $130, which she turned over to the Auxiliary.
"This little project was something I did for the fun of it," Brown says. "And it was indeed fun!"
Facilitator Irene Engel says the donation will support the Auxiliary's Family Place, a program for parents of infants in the Health Center's Neonatal Intensive Care Unit. Since July 2008 the Auxiliary has been leasing a two-bedroom suite at the Homewood Suites in Farmington and offering it to families as a free place to stay while their newborn is in the NICU, less than a mile away.