Headlines
As reported by The Valley Press, January 31, 2013.
Small Survivors
A Local Look at the Evolution of Care for Premature Infants
By Abigail Albair, Editor
The Valley Press, The Valley Press Facebook Page
The West Hartford Press, The West Hartford Press Facebook Page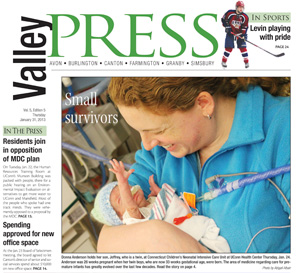 On the cover of the Valley Press, Donna Anderson holds her son, Jeffrey, who is a twin, at Connecticut Children's Neonatal Intensive Care Unit at UConn Health Center Thursday, Jan. 24. Anderson was 26 weeks pregnant when her twin boys, who are now 33 weeks gestational age, were born.
Click photo above for larger view.
Photos by Abigail Albair
The birth of a child is joyful, but when a baby is born prematurely, it can also be frightful for the parents.
The complications of being premature can be life-threatening depending on the gestational age of the child. While any early birth requires special medical attention, over the last few decades, great advancements have been made in terms of the care for these infants that has greatly improved some babies' chances of leading a healthy, normal life, and also allows doctors to save the lives of babies, in some instances born at only 22 weeks, something that was unheard of years ago.
Locally, work in this area of the medical field happens daily at Connecticut Children's Neonatal Intensive Care Unit at University of Connecticut Health Center in Farmington.
"I have some perspective on it because I've been working in this field for about 35 years. There have been major changes in our specialty, and the outcomes for premature babies has improved significantly over the last few decades," explained Dr. Victor Herson, the medical director of the Connecticut Children's NICU at UConn Health Center and Connecticut Children's NICU at Connecticut Children's Medical Center.
Medical Improvements
Herson explained that when he began in the field in the mid '70's, the "age of viability" of an infant was 28 weeks, meaning any baby born before the mother had reached the 28th week of pregnancy was not considered viable. "There was almost nothing we could do; there was almost 100 percent mortality," he said.
Today, he explained, the age has been moved down to the range of 22 to 23 weeks, with a small percentage at just 22 weeks that survive. He said that as recently as 20 years ago, the mortality rate for a 27-28 week baby was approximately 75 percent and a third to half of the survivors would have some disability. Today, a 28-week baby still has some increased risk of a neurological problem as compared to a normal baby, but the risk is only in the range of 5 to 10 percent.
"The mortality rates for all week of pregnancy has improved dramatically," Herson said. "Once the babies reach about 27 weeks today, the mortality is very, very small – less than 10 percent."
In addition, quality of life and neurodevelopment has improved over the years.
"For very tiny babies born between 23 and 25 weeks, there still remains a very, very high risk of learning and neurological development problems. A third of those babies will have problems and remain high risk after they go home," Herson said, but for babies born later, near 27 weeks and up, the prognosis is good.
The biggest evolution that has allowed for these improvements has to do with technology, Herson said.
"Years ago when babies needed intensive care, they were out on a warmer bed with bright lights and lots of people. There was constant stimulation, tests, needles. We've learned that, with better technology, we can monitor the baby appropriately with a lot of hands off, and allow the baby to be in a quieter environment with the lights down, which has been shown to keep blood pressure down and promote brain development."
He added, "It's an interesting evolution in the sense that it's kind of a low-tech approach to what was thought to be a very high-tech environment."
Other more recent things that have made a difference, he said, include respirators and ventilators that are now sized to meet the needs of babies in terms of the fragile nature of their lungs, the use of medications that are instilled into the lungs to aid breathing, obstetricians delivering premature babies in more-closely monitored conditions and mothers receiving steroids before premature delivery, which helps aid in lung development and reduce complications.
Family Support
In addition, improvements haven't just occurred on the strictly medical end, explained March of Dimes NICU family support specialist Jeanne Lattanzio, who once served as the UConn Health Center director of nursing and who also remembers a time when the outlook was more grim for very premature babies.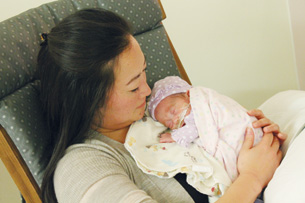 New Britain resident Kim Ciccarillo holds her daughter, Emma, in the Connecticut Children's Neonatal Intensive Care Unit at UConn Health Center Thursday, Jan. 24. Ciccarillo was 26 weeks pregnant when Emma, who is now 37 weeks gestational age, was born.
"Years ago, babies that were 23 weeks stood no chance and now we have 23-weekers in the unit all the time. Obviously, they are still sick and need help, but that was unheard of when we opened," Lattanzio, who has been with the Health Center since before the NICU was established, said. She noted the diversity of the professionals working in the NICU that now includes neonatal nurse practitioners and physicians assistants as well as the nurses and doctors, which allows for the best possible treatment of the infants.
Lattanzio also said many of the positive changes she has seen include caring for the parents as well as the child.
"A lot of nice things have happened," she said. "Parents are much more involved in the care of the baby. It used to be that they'd come and look at the baby, but were more of a visitor. Now they're very involved in what's going on."
She said parents are now able to engage in "kangaroo care," which is a session of skin-to-skin contact between parent and baby. "It's absolutely wonderful. The baby's heart rate, blood pressure and respiratory rate all settle down, and they can hear the mother's heart rate," she said. "A healthy mom and dad can hold the baby. It's bonding, it's something they can give."
In her role with the March of Dimes program, which has only been at the hospital for seven years, Lattanzio helps parents in any way she can, including running support groups and coordinating parent-to-parent volunteers.
"I've always felt no one can support a parent in the NICU like a parent that's been through the NICU," she said.
A Parent's Love
Donna Anderson, the mother of twin NICU patients, spoke with a parent-to-parent volunteer on the morning of Thursday, Jan. 24 during which she held her two boys – Jeffrey and Nicholas – who were born in her 26th week of pregnancy and are now 33 weeks gestational age.
Jeffrey is now two pounds, 15 ounces, and Nicholas is two pounds, nine ounces. Both are doing well.
Anderson is a Rocky Hill resident who travels to the Health Center every day to see her babies. Although she doesn't have too far to go, some NICU parents come from all over the state daily and even over the New York line, Lattanzio said, to see their children.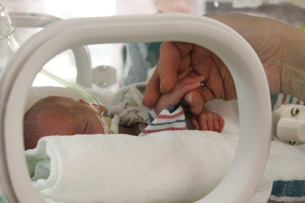 Nicholas Anderson and his twin brother, Jeffrey, are patients in the NICU. They were also born during their mother's 26th week of pregnancy. They are now 33 weeks gestational age.
"The whole experience of having babies so premature is very scary," Anderson said later that afternoon, "especially because you don't know what to expect and what can happen. The [NICU] staff has been incredible in terms of educating us on all the different parts from a medical perspective and what is common for premies, which eases our stress and fear quite a bit."
She added that she has been impressed by the amount of medical options available for the infants. "They are tweaking little things every day to see what works. … What's interesting to me is if something doesn't work, they can adjust it. They always have something else to try."
Anderson knows that her babies will most likely be in the NICU until at least their original due date, which was March 15.
"It was very scary when they had to do the emergency C-section. I just kept thinking, 'They're too young, they're too young,' but the whole staff has been wonderful. I'm just so thankful for everyone that's been part of this. It's a very stressful thing and they've made it so much easier to deal with."
One story that has eased her worries is that of NICU nurse Megan Richardson who, 30 years ago, was a patient in the NICU herself.
From NICU to Nursing
The nurses in the NICU joke that they "grew their own nurse" when they talk about Richardson, who returned to the same place she was born to begin her career.
She was born in 1986 at 30 weeks gestational age, weighing only one pound, 14 ounces.
Her knowledge of her own time in the NICU led her to consider nursing as a career once she reached college, Richardson said.
"I went through nursing school and did an internship in the UConn Health Center NICU in my junior year and fell in love and have been working in the NICU since I graduated," she said. "Knowing that I was once a patient in the NICU where I work gives me a huge appreciation for what all the nurses there do. They gave me outstanding care and I will always have a place in my heart for the UConn Health Center NICU and the nurses and doctors and staff there."
Richardson participates in the March of Dimes program as staff support and Lattanzio said, "She's wonderful. She's given a whole lot back."
Though all the advancements in the field bring a great amount more hope to parents than was possible decades ago, nothing could ever alleviate all concern, Lattanzio said.
"There is so much we can do, but for some babies it is still a very long visit to the NICU," she said. "No matter what, there is always concern. A parent is still a parent."